Happiness for me is Baker in my bicycle helmet review mirror.
Had a nice tail wind to the ND border which is 13 miles east of Baker. Made it in 50 minutes.

And on the other side of road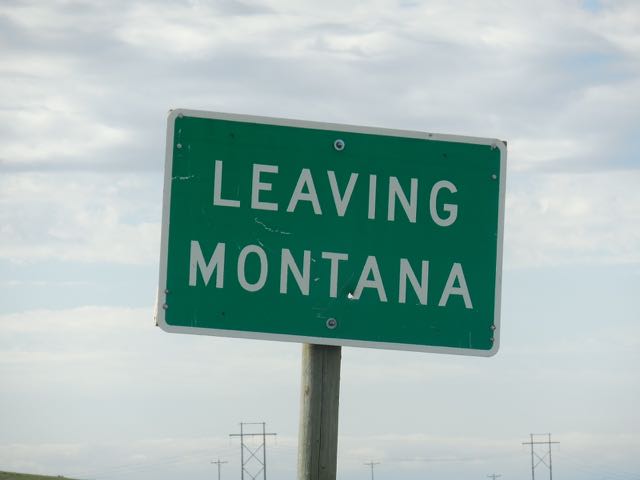 :
What a difference an imaginary line makes. It was like night and day. ND highway was new, good shoulder, farms were all nice and upkept. Oil money? Maybe. Less ranching and more farming? Farms being smaller than ranches maybe means more folks to spread the monies around. I don't know, but there was a visible difference.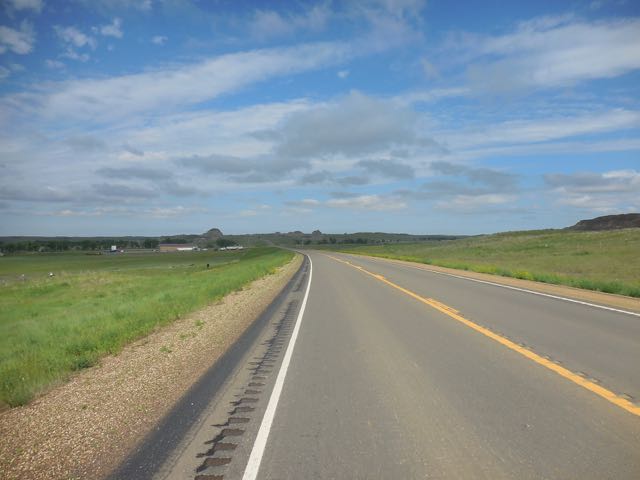 Stopped along the highway to have a peanut butter sandwich along side of these huge wind turbines. If you have never stopped near any make sure you do. Turn your car off and just listen to the sounds. Wind is powerful no doubt.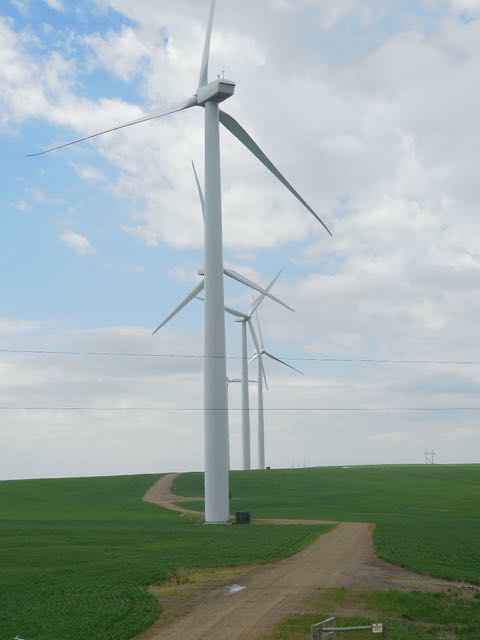 As I'm going up a long hill I notice a couple of spots in my mirror that appear to be bicycle riders approaching me from behind. I pull into a approach and wait to greet them. A couple from Austria on a 2 year round the world tour on bicycles. We talked for about 30 minutes. Wow! Around the world bicycle trip. So Troy if you are reading this, do you remember when we hiked across the Bob Marshall Wilderness and was finished and waiting for Dawn and Michelle to pick us up at the Holland Lake Lodge. Our chests were sticking out and we thought well not a bad trip this was. Not a lot of folks can accomplish this hiking 67 miles, living with grizzlies, roughing it so to say. Well remember when the 2 fellows on bikes pulled up at the lodge and I asked them where they were coming from and he said he was coming from Fairbanks, AK and heading for the tip of Chile. And how my inflated chest deflated. That is how I felt when the bikers today told me of their expo. I have it all in prospective now. I am little they are strong.
Anyway on into Bowman, ND. Nice small city. I'm guessing 5500 residents. ND High School Rodeo Championship here tonight here also. Lots of cowboy hats and horses.
I went out and enjoyed a hand tossed pizza and a beer and came back to the room.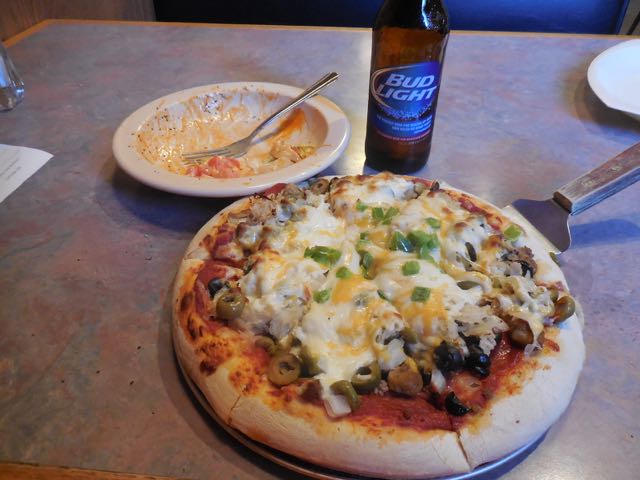 Tomm I suspect I will cross the state border into South Dakota. First town will be Lemmon.
Now the numbers:
49.10 miles
4:06 minutes
560 Total miles
47.12 seat time (ouch)
Stay tuned